Penang is famously known as a food paradise in the country due to it's grossly mix of history, culture, political background and religion. The little island take its pride in it's street and hawker food where it superceeds that of expensive restaurants and satisfies one's belly. Be sure to explore some hidden corners and alleys of Penang's streets for some of these top Penang dishes.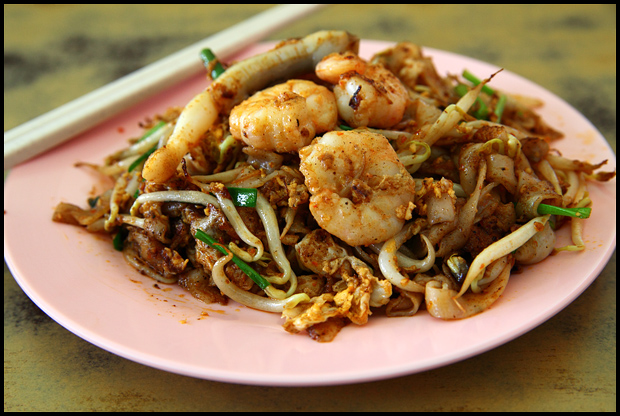 Char Koay Teow
"Char Koay Teow" is the name of a very native and common dish across Penang. It's kind of like the McDonalds of America. You can find it in every coffee shop or hawker centre alive in Penang. Whereever you go, you will not miss signs saying "Char Koay Teow" at various eateries. Char Koay Teow means fried Koay Teow, which is a kind of flat noodle that is skillfully fried in a wok together with bean sprouts, prawns, egg and sometimes topped with crab meat on the top. This dish is so popular that there are numerous stalls that competes to be the best on the island and locals often beg to differ on which is the ultimate Char Koay Teow. Some recommended stalls to try are Sister's Char Koay Teow in Macalister Road and Tiger Char Koay Teow at Kafe Ping Hooi, 181 Lebuh Carnarvon.
Asam Laksa
Asam Laksa is an unusual combination of fish based broth soup wih thick, glassy and spongy rice noodles consisting of tamarind juice, spicy and sour mackarel and fresh vegetables. It is a signature dish of Penang. A lot of neighbouring states attempts to copy this dish but usually the result does not come close to the real deal you get in Penang. The best asam laksa in Penang goes to the one in Air Itam situated next to the Air Itam market. The main character of the dish is the asam which is sour and is accompanied by other less stronger tastes such as lemongrass, mint and onion.
Lor Bak
Penang is famous for it's Lor Bak, which is a five spice marinated pork wrapped in thin bean curd skin and then deep fried to a brown crisp. It is then served with other small dishes of your choice like deep fried cubed tofu, century egg, or deep fried prawn fritters. The way it is eaten is that they are chopped into small finger bite pieces and then dipped into a homemade starchy lor brown sauce with beaten egg swirls and chilli sauce. Meat eaters will find this a delight as the pork is exquisitely flavoured and tender. They are also deep fried upon order only so the freshness is maintained. A nice Lor Bak stall can be found at the junction of Penang Road and Sri Bahari Road or at any massive food hawker court.
Mee Goreng
Whether you like oodles of noodles, you will still find the infamous Mee Goreng stall in Bangkok Lane worth a visit. This Indian mee goreng cook has been featured on several food network channels before and despite being Indian, he speaks Chinese dialects to perfection. It is highly entertaining to watch him at work when he tosses the noodles high up in the air and rotates the work in circular motion with his other hand at the same time. This Mee Goreng dish can be eaten dry or wet (with sauce) and comes with squid, tofu, bean sprouts and potato. The sauce is made of prawn stock and mashed potatoes, which is a great combination for a twisted and delicious taste.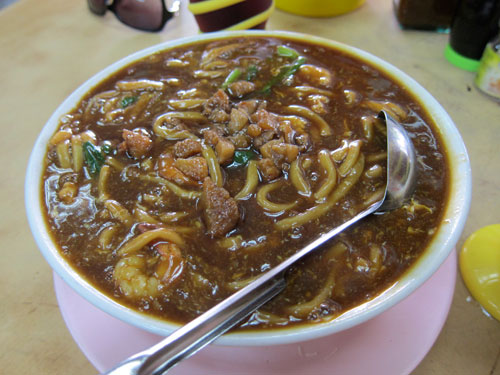 Loh Mee
Another top Penang Hawker food is the noodly Loh Mee. It comes in bowl of thick dark colored gravy, five-spiced powder and pork rib stock with yellow noodles or beehoon. The gravy is somewhat starchy from using white egg. It is topped with herbal boiled egg, slices of barbequed pork, bean sprouts and sometimes chicken feet. It it served with red chilli sauce that is sour tasting. The most important aspect of this dish is the gravy, which will determine the flavour of the taste. If you go off Jalan Perak, there is a food stall that serves one of the best Loh Mee and it is called "King Leng Loh Mee."
Curry Mee
If you like some spice in your life, do not forget to try Penang Curry Mee. They are a bowl of rich curry noodles with a lot of texture, color and spice. A typical bowl of curry mee consists of bean sprouts, square dried tofu, coagulated blood, blood cockels and cuttle fish. It is usually spicy and some coconut milk is used for the soup although it has a very mild effect on the overall bang. Curry Mee can be proudly found almost anywhere and if you are more adventurous you can try Tua Pui Curry Mee located at 23, Lebuh Kimerley.
Hokkien Mee
Hokkien Mee also known as "Prawn Mee" is a famous Penang dish, taken after the spoken dialect in the state, which is Hokkien. It has an aromatic prawn based stock and the soup is light and clear. The chilli paste that is served either on the spoon or a little bowl expands on the taste when mixed together with the soup or dabbed on the noodles as you eat. It is delicately funished with slices of boiled egg, shreds of chicken, bean sprouts, morning glory and sometimes pork intestines. Jalan Penang, Jelutong is one of the many places that serves this glorious prawn noodle soup.
Popiah
A healthy and light appetizer is no other than Penang Popiah. It is a thinly wrapped crepe made of wheat flour with well marinated vegetable stuffings, shredded egg, bean sprouts, tofu and fried shallots. After the popiah is wrapped, some light and warm gravy is poured over making it wet and a little soggy.  For over 60 years of popiah making experience, head over to Gerai Gerai Padang Brown. It it one of the few places that serves popiah with some crab meat for that extra flavour.
Cendol
Cendol is a prominent Malaysian dessert and is a dessert well sought after for anyone who visits Penang. One of the most popular and oldest cendol running business is the Penang Road Famous  Teochew Cendol by Mr Tan, spanning a 5 decade old recipe and is frequented by VIPs such as Lim Guan Eng and Gurmit Singh. The dessert is a bowl of ice shavings with swirls of aromatic brown sugar liquid, fragant coconut milk, green rice jelly and red beans. At times there is a long queue and people most willingly eat by the stall squatting or standing by the road because it tastes so good clients forsake eating it in style.
Penang Rojak
Rojak in Malay mean "messy or mixed" and is a light dish combined of different types of sliced fruits and vegetables mainly pineapple, cucumber, cuttlefish, mango, guava and deep fried fritters tossed into a bowl with thick black sauce made of prawn paste and other mysterious ingredients. It is a light and healthy snack that is a favourite among the locals. Most locals rave about how the sauce is the determinator of what makes the rojak great. For evidence of this claim, you might want to try stall #39 and #52 at Gurney Drive Food Court.