Penang is popularly highlighted for it's colonial structures, world heritage sites and buildings, temples and streetfood. Despite this, many overlook the islands and beaches it has to offer. There are amazing and affordable beach resorts, quaint coastal villages and campgrounds, the sea, sun, sand and play for more than just a day trip.
Pulau Jerajak
Pulau Jerajak is a serene island with panaromic beaches and a primeval rainforest that has been preserved for more than 400 years. It is located just off the southeast coast of Penang. The island is one of the biggest islands surrounding Penang at around 362-hectre land in size. Pulau Jerajak paints many important historical points particularly when the founder of Penang, Francis Light first set foot on this island in 1786 and Malaysia's Alcatraz from 1969 to 1993. Over time, Pulau Jerajak has transformed into Penang's main ecotourism spot that includes a rainforest resort, onsite spa centre, restaurant and a number of other facilities. While it's a nice play to stay, the island also has frequent visitors for day activities like sand voleyball, achery, paintball, kayaking, jungle trekking and water polo.
Tanjung Bungah
A beach that is less commercial and more residential can be found in Tanjung Bungah. It is a long stretch of beach home to a few hotels, resorts and and luxurious condominiums popular to Korean, Japanese and Hong Kong expats. It is half an hour's drive from Georgetown and only a bus down from Komtar to a stop and few minutes walk's arrival to sand and water. Tanjung Bungah was formerly a quaint fishing village now bursting with attractions such as the Penang Toy Musuem and Penang Floating Mosque. Splash away with water fun activities at the Penang Water Sports Centre here offering kayaks, canoes and boats for rent at modest prices. Other enjoyable activities are beach soccer and fishing for the patient and low key. In June or July, there is the Penang International Dragon Boat Festival which boasts many countries competing against each other after months of hard training.
Batu Ferringhi
Batu Ferringhi, a hot spot among locals and tourists tucked away along a windy road and a long stretch of soft sand with beautiful resorts, international restaurants, pubs and a buzzing night market of a hundred over stalls set to entice customers with great bargains and killer souvenirs and every other sort of item. It's a nice change of scenery after exploring the hot and busy Georgetown and has fun water sport activities like jet skiing, parachuting and banana boat rides.
Pantai Kerachut
Known as one of the most remote beaches on the Penang Island, this island is for true nature lovers and those who want the perfect getaway filled with serenity and stillness. But mostly, it is home to many green turtles that are nestling, hawksbill turtles and olive Ridley turtles between the months of September and February. If you"ve taken extra precautions on after stings of the 5 star creatures, you may find jellyfish creeping up to the shores due to the formation of kelp from November until January. Other than rock formations and quartz veins, this beach makes it possible to watch lizards, crabs, stock-billed kingfishers, mousdeer and is one out of the four lakes in Asia that has has sea water and fresh water that are kept apart. Once a year, the top layer of fresh water water is critcally colder than the sea water beneath which is quite an unusual occurrence.
Pantai Teluk Kampi
After feasting on all the great Penang food, an ideal way to get your metabolism furnace burning again is hiking from Pantai Kerachut beach to Teluk Kampi. The hike takes about an hour and is suited for experienced hikers as the trail to Teluk Kampi Beach is the most challenging and should only be pursued with proper hiking gear. The trails are indefinitely natureful as it can get, often covered with lush grass, leaves and moss. It can be slippery and quite steep especially in rainy season. Camping anywhere along the calm coastline and watching the sun set and rise is one of the beauties of Pantai Teluk Kampi. See live ninja turtles as their breeding period starts from the months of February to April.
Pulau Aman
Pulau Aman, also known as "Island of Peace" is an island between touritsy to isolated and is a quiet fishing village inhabited by about 300 people. A boat departs from Bukit Tambun to Pulau Aman about four times a day for RM4 for adults and RM2.50 for children. Apart from cycling, fishing and jungletrekking, the island offers lots of sightseeing activities like the Telaga Emas (Well of Gold), a really ancient well from 1789 that doesn't run dry during the worst draught. Next door is Pulau Gedung, a historical island with caves that served as shelters to former pirates and home to remnants during the World War II ammunition.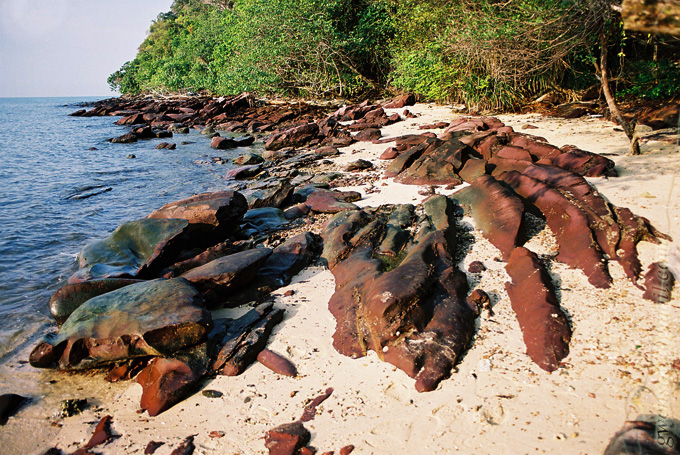 Pulau Kendi
For those who would like a chance to snorkel and swim in peace without worrying about getting stung by a jellyfish, Pulau Kendi is a tiny island located on the south western tip of Penang that is perfect for this. It's clean and clear waters bring out the beauty and clarity of coral reefs, little Nemos and other sea creatures in the underwater world. The island can be accessed by boat from Gertak Sanggul and is also popular for it's natural and exclusive rock formations.